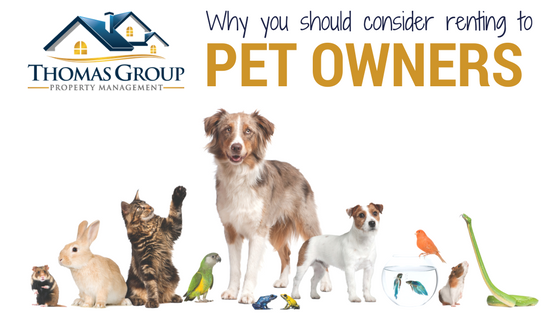 Thomas Group Property Management always works with our property owners' best interest in mind. We understand why some owners would shy away from accepting tenants with pets but there are a few positive aspects to consider when it comes to pet-friendly rentals!
TGPM REQUIRES A $350 NON-REFUNDABLE PET FEE FOR EACH ANIMAL
As soon as a lease is signed we collect this non-refundable fee and distribute it to our property owners. While we encourage tenants to minimize all pet-related damages to the property we understand that things happen and the pet owner should be held accountable. Any pet-related damages over $350 will be deducted from the tenant's Security Deposit. We have found that prospects are more than happy to pay this fee for pet-friendly accommodations.
INCREASED PROSPECT POOL
Allowing renters with pets will expand your number of applicants and increase your ability to find tenants. This can not only reduce your potential turnover time, but also increase your chances of finding the best possible tenants. According to survey results from Apartments.com, the number of pet-owning renters increased from 43 percent to 72 percent. However, in another survey conducted by Apartments.com, 60 percent of those responding said that they have struggled to find pet-friendly accommodations.
REDUCED TURNOVER
Landlords who allow pets at their rental properties experience reduced turnover according to a study done by FIREPAW, Inc. The study found–according to landlord surveys–tenants who had pets were more like to stay longer by an average of 23 compared to 15 months. The study found that the difference was even more significant in tenant surveys; tenant reported staying an average of 46 months in pet-friendly vs 18 months for tenants in rentals that disallowed pets.

We hope you will consider some of these factors while planning to place your rental property on the market. If you would like to discuss your possibilities please contact Megan Hampton at megan@thomasgrouppm.com or by phone at 352-226-8228 ext. 47.